WRISTWATCH DESIGNER
BOSTAMI AHMAD is no ordinary designer. He grew up as the son of Felda settlers who did not even own a car. However, his love of designing and pursuit of excellence led him not only to the designing studios of Lamborghini, but also got him shortlisted as a candidate to become Malaysia's first astronaut.
Bostami said: "I've always loved designing. When I was a kid, I thought to myself that I would design a car for my father someday."
Such an inspiration!
Mr.Bostami Ahmad is the Faculty of Creative Multimedia PermataDunia, graduated with Bachelor of Multimedia (Hons) in Interface Design, class of 2004.All the best PermataDunia!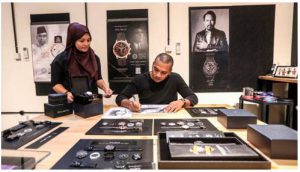 Read more about his story at https://www.thesundaily.my/style-life/feature/from-automobiles-to-wristwatches-BF4689993
Credit news: Instagram @creative.mmu
Credit photos: Ashraf Shamsul/ theSun