We can always trust Tuan Haji Saiful Nang to rush to the needs of the needy.  This time his project, called Projek Pelangi, takes him to the East Coast of Malaysia to help the flood victims by providing financial assistance to assist them to get back on their feet.  He helped publish stories of various victims who are in need of help and asked for contributions through his Projek Pelangi kempen.
Tuan Haji Saiful is a Permata Dunia of Faculty of Creative Multimedia with a degree of Bachelor of Multimedia (Honours) (Film and Animation), Class of 2001. He is a well-known philanthropist as well as a social entrepreneur who has tremendous support and numerous followers from all over Malaysia.
We wish him a happy and prosperous life due to his many humanitarian acts.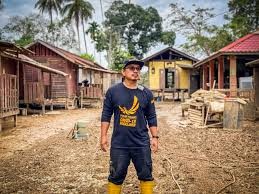 credit: Facebook @SaifulNang