Alumni Company Fix And Go: It Specialist Supplied Laptops to Yayasan Universiti Multimedia
FIX AND GO: IT SPECIALIST became the chosen supplier for Yayasan Universiti Multimedia's (YUM) laptops for executive and underprivileged students.  The deal was made through Permata Dunia Mr Azril Hanafi who is a graduate of Faculty of Science and Information Technology, with a degree in Bachelor of Information Technology (Honours) (Data Communications and Networking), Class of 2008. Other Permata Dunia working with him in the company is Mr.  Muhammad Shahrul Ikmar bin Mustapha and Mr Muhammad Syawal bin Nasarudin. Mr Shahrul is a graduate of Bachelor of Information Technology (Honours) (Information Technology Management) from the Faculty of Information Science & Technology, Class of 2008 while Mr Syawal is a graduate of Bachelor of Engineering (Honours) Electronics from the Faculty of Engineering, Class of 2019.
The laptops provided will be given to underprivileged students and will be most helpful to assist the students on their online learning.  Thank you very much for giving YUM the opportunity to collaborate and the university looks forward to more future collaboration and networking.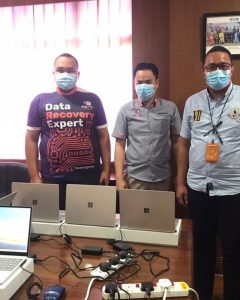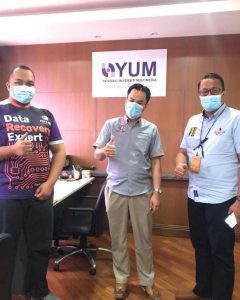 Photo credit: Fix and Go: IT specialist