Meet and Greet Session with Chancellor
On 13 September 2021, a group of Permata Dunia had an interactive session with MMU's chancellor, YABhg Tun Dato' Seri Zaki Tun Azmi from 9.30 a.m. to 11.00 a.m. The main agenda of the session was brainstorming on networking improvement among alumni and ways of collaboration between MMU and alumni.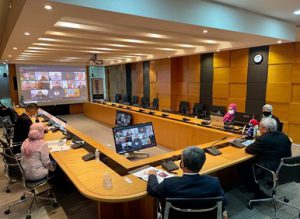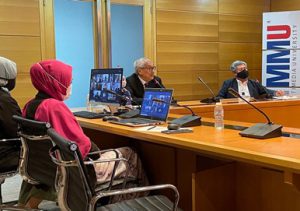 The session was attended by many alumni who are Ts. Noor Mohd Helmi Nong Hadzmi (CEO of IX Telecom) FOE 2003, Khairil Effendy Dato' Ahmad Dhman Huri (Founder and Managing Director of Nexagate Sdn Bhd) FOE 2003, Nur Atiqah Sulaiman (CEO of Sugarscarf International Sdn. Bhd) FCI 2010, Terry Swee Chee Yoong (Managing Director and Founder of Vesbo Malaysia) FOB 2011, Tan Wee Li (Founder of Netizen Testing) FET 2008, Dato' Nicholas Kow Eng Chuan (Founder of KLE Legal) FOL 2008, Shamsul Nashriq Bin Norhisham (Founder of Motiofixo Sdn Bhd) FCM 2007, Jason Wong Wai Yuen (Co-Founder and Director of Hunters International Sdn Bhd) FOE 2002, Mohd. Zikry Kholil (Cofounder & Chief Communications Officer of Incitement Sdn Bhd) FCM 2008, and Sabirin Alimin Che Hassan (Former student of Multimedia Technology Management).
The alumni were very lucky to be able to meet and brainstorm with the Chancellor of the University. Involving the alumni of this university in the session would open a broader opportunities and ideas for MMU's future improvements. May our alumni continue to contribute MMU in the future.