The Government-Linked Universities (GLU) Youth Nation Alumni Network: Job Seekers to Job Creators webinar, a collaboration of the Alliance of 4 GLUs, which were Multimedia University (MMU), Universiti Petronas (UTP), Universiti Tenaga Nasional, (UNITEN), and Universiti Kuala Lumpur (UniKL) was held on November 18, 2021. The one-day webinar was conducted virtually via the Google Meet platform, and alumni participants needed to register for it. The main goal of this programme was to guide GLU alumni on how to become successful entrepreneurs.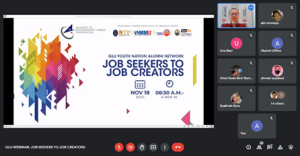 The invited event guest speakers are highly experienced, skilled, and of high calibre in their respective fields, such as Mr. Mohamad Ibnu Mohamed, Senior from MaGIC, and Mr. Abi Ommaya bin Omar from MDEC. There were also alumni speakers from each university, including MMU Permata Dunia Sulaiman Syah b. Abdul Rahman, a Co-Founder of Pentagon Sifir, Norsiah Binti Ahiddin, Founder of Norcy Beauty Lab Sdn Bhd from UniKL, Ts Anwarudin Saidu Mohamed, Executive Director of Reservoir Link Energy Berhad from UTP, and Abd Azharee Abdul Wahid, Founder and CEO of Akademi Usahawan Mikro from UNITEN.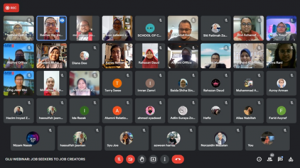 A big thank you to all the invited guests and participants who have worked hard to make it a success. It is hoped that such programme will become more common in the future and that participants will put the knowledge they have gained to good use.