Students Tanya, Alumni Jawab
Throughout the month of July, the Faculty of Creative Multimedia (FCM) conducted a weekly series of 'Students Tanya, Alumni Jawab'. The first series was launched on 26 June and continued for another 4 series during July. The sessions were held every Saturday night with different speakers from different fields each week hosted by two FCM students.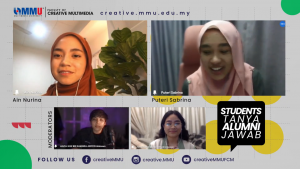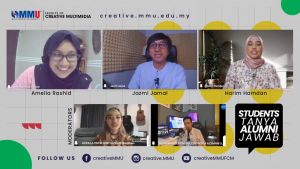 The alumni who were invited to share their experience were Amin Azman, FCM 2018, Azim Hulaimi, FCM 2018, Zikry Kholil (Co-Founder & Chief Communications Officer (Global) at Incitement) FCM 2008, Jean Basri (Founder & Creative Director at Olala Studio Sdn. Bhd.) FCM 2008, Jazmi Jamal (Lecturer in ASWARA) FCM 2008, Harim Hamdan (Program Leader and KLMUC) FCM 2008, Amelia Rashid (Lecturer in INTI International University & Colleges) FCM 2009, Mr. Raymond Malinga (CEO of Creatures Animation in Uganda) FCM 2014, Ms. Farah Mahadon (UI Designer and Mentor at Ubisoft Mainz in Germany) FCM 2013, Ain Nurina (Bachelor of Multimedia (hons) in Advertising Design) FCM 2018, and Puteri Sabrina (Bachelor of Multimedia (hons) in Animation & Visual Effects) FCM 2018.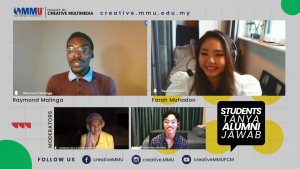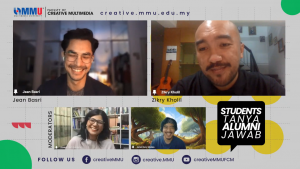 This initiative by the Faculty of Creative Multimedia focuses on the experiences of each alumni while being a student and the story of their successes. They were honored to share tips, advices, and many more for those who decide to follow their footsteps. The sharing session with the successful alumni is hoped to motivate young Permata Dunia in many aspects.