The topic of post-pandemic is no mere stranger to those living in Malaysia because each individual is affected by it. The goal of episode 5: "Changes and Challenges in Job Scope in the Post-Pandemic Era" is to find out the loopholes and bumpers to reach a sustainable lifestyle mainly for the working life.
The talk was hosted by Centre for Alumni and was streamed live on MMU Facebook and Youtube Channel. Those who participate in the discussion is no exception to the pandemic. Permata Dunia Mr. Ts. Noor Mohd Helmi Nong Hadzmi, the CEO of IX Telecom started as an MMU Faculty of Engineering (FOE) graduate who has the guide and knowledge to start the first of its kind; a global virtual operator company. Permata Dunia Mr. Khairil Effendy Ahmad Dhman Huri also took the chance after graduating with a degree from FOE to fill in the gap in the industry and created his own internet security company.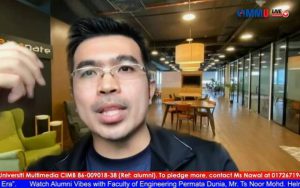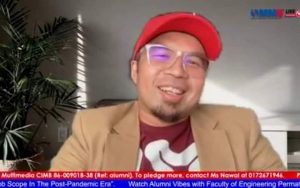 In the talk, Mr. Helmi highlighted that having a close bond is a challenge during the pandemic due to remote working and virtual communication. Mr Khairil further shared that changing from face to face interaction to virtual connection was hard to manage at the beginning with so many acquaintances being unfamiliar with virtual communication.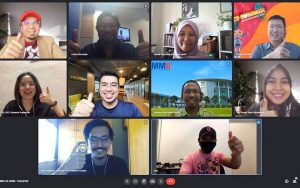 The talk was moderated by an FOE student, Ms. Lim Min Ying, who is also a Student Representative Council committee member in MMU. To wrap up the show, the speakers highlighted that the effort to contribute in responsibilities and discipline makes a valid reason to overcome the problems at hand. As for final regards, Mr. Helmi inspired the viewers by wishing current students good luck and a quote by him was "It is all up to us".