On 28 July 2021, Centre for Alumni collaborated with the Faculty of Cinematic Arts to organize July Alumni Vibes featuring Permata Dunia Mr. Zhang Yi Cheng. Mr. Zhang, a graduate of Faculty of Cinematic Arts, class of 2019 is the founder of ZY Productions on YouTube.  He was invited to give a talk on how to start a career as a full-time YouTuber.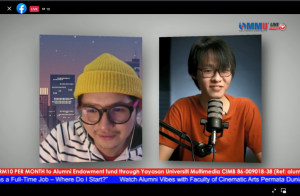 He is known for his success as a young tech YouTuber. He was awarded with The President Award in the 20th Convocation Ceremony of Multimedia University (MMU) on 21st September 2019. When he graduated, he has already achieved as many as 110K subscribers on YouTube which is very admirable.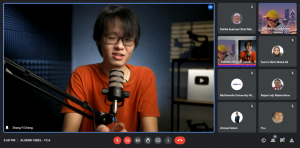 During the talk, Mr. Zhang shared many insightful tips and advice for YouTube beginners. Being a graduate from cinematic arts faculty, he also shared his experience while studying as well as sharing what he had discovered in his career as a YouTuber. The live session was broadcasted on two platforms, MMU official YouTube channel and Facebook. There were many excited audiences who came to watch the live while supporting him. Everyone looks forward to meeting him again in another live session. His success should be everyone's motivation to never give up in life and always do your best to achieve success.