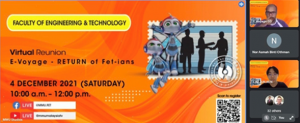 On Saturday, 4th December 2021, a virtual reunion titled "E-Voyage – Return of Fet-ians" was held by the Faculty of Engineering and Technology (FET). The reunion was broadcasted live through FET's Facebook and MMU's YouTube. This event's primary focus was to strengthen the bonds between MMU alumni, students and staff.
This reunion was emceed by two students from the Faculty of Engineering and Technology thus started with an opening speech by the Director of Engineering Society, Jimmy Aw Yong Jie and the Dean of Faculty of Engineering and Technology, Prof. Dr. Fazly Salleh Bin Abbas. The main activity for this reunion was Alumni Success Story by invited speakers, Permata Dunia Thiaku Ramalingam, Ts. Indera Shaiful Bin Baharudin and Ir. Yong Gee Suan. Other activities for this event included Nostalgia Quiz, a talent showcase and a showcase of Grüne Welt, a Shell Eco-Marathon.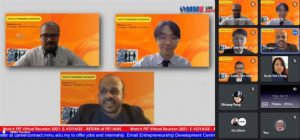 Congratulations to all students, MMU staff and alumni who were involved in planning and conducting this reunion successfully. Hopefully, more events as memorable as this will be carried out in the near future.
To watch the full event, please visit https://www.youtube.com/watch?v=VpzGIg810Dw