The animated Ejen Ali The Movie triumphed the Box Office Award at the 31st Malaysian Film Festival (FFM31) on 10th December 2021. This animated movie was released on 28th November 2019 airing in various SEA countries such as Malaysia, Singapore, Brunei, Indonesia and Vietnam. Ejen Ali The Movie became the highest-grossing animated film in Malaysia grossing over RM30 million.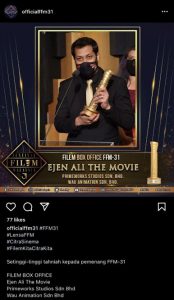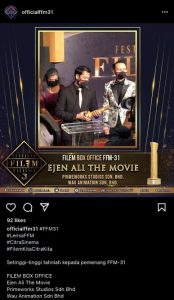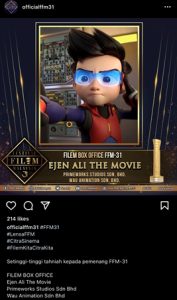 Usamah Zaid, a Permata Dunia was involved in directing and producing Ejen Ali The Movie. This movie which was produced by WAU Animation was highly praised for its astoundingly stunning animation with being able to convey the storyline, characters' development and emotional depth also action scenes marvellously.
Heartiest congratulations goes to all Permata Dunia who were involved in producing this movie. The public awaits Ejen Ali The Movie's sequel and is hoping for more wonderful films from WAU Animation and the Permata Dunia team.