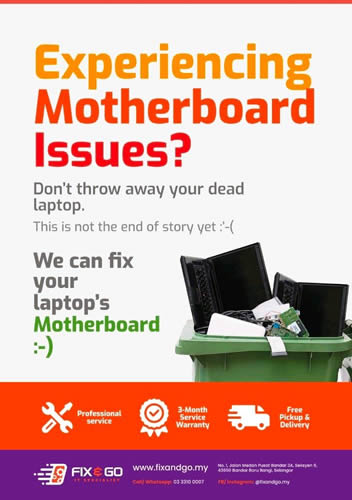 Fix & Go : IT Specialist (Definite Security Sdn Bhd)
Our services have been recognized by Cyber Security Malaysia (CSM).
Among our Services are
1. Data Recovery & Sanitization (Hardisk @ Pendrive is damaged, or can not run documents)
2. CCTV, Access Door & Alarm System Installation
3. Computer Repair & Service
4. On Premise IT Support (Repair the system / network in your place)
5. Reseller IT products such as antivirus, Kaspersky, Bitdefender, Telepresence (Video Conference), and computer accessories.
6. IT Training
Promotional: IT Managed Services
Managed IT services allow businesses to delegate their
IT operations to an expert third-party organization that
specializes in handling these responsibilities.
These third-party organizations, known as Managed
Service Providers (MSPs), are responsible for the
entirety or portions of a business' IT systems, as agreed
upon in a Service Level Agreement (SLA).
IT equipment is typically procured by the client, and
depending on the SLA, Managed Service Providers may
provide round-the-clock monitoring, issue resolution
and reporting, and more.
01 | Managing any IT equipment at the premises.
02 | Full reports will be provided to the premises.
03 | Free consultation and upgrade suggestions.
Data Recovery
Get your digital life back. We provides from
any drive brand & storage device data recovery
services throughout Malaysia.
Our clean room facilities are located in Bangi &
Cyberjaya. Let the experts recover your files if
there is physical damage.
01 | Data Recovery Services
02 | Data Sanitization Services
03 | Diagnose and solve computer problems.
Warranty & Repair
We offer a wide range of quality computer
repair and warranty services for laptops,
desktops from broken screens, viruses, laggy
computers, upgrades, to data back-ups.
Keeping our customers satisfied with our
product or service is non-negotiable.
01 | Supplying new, used and refurbished computers
02 | Upgrading the latest hardware and software.
03 | Diagnose and solve computer problems.
CCTV Security & Access
Control System
For the very best in security, you need a
complete protection plan that includes
electronic security and video surveillance.
If you have been looking into security systems
for your business, surveillance solutions from
us are the cost-effective & state-of-the-art
answer.
01 | Monitoring your home and business premises anywhere.
02 | High-quality analog and IP CCTV security camera with
high definition (HD) display.
03 | Door access with an electromagnetic lock
IT Training
On-site & Inhouse Training to improve
performance, address skill gaps and update IT
skills.
01 | Basic of Personal Computer (PC) Setup
02 |Introduction to Data Recovery
03 | CCTV Security & Door Access System Deployment
04 |Introduction to Computer Maintenance & Repair
05 | Basic of Server Management
06 | Basic of Networking Setup for SME
07 |Introduction to IP & Analog PBX